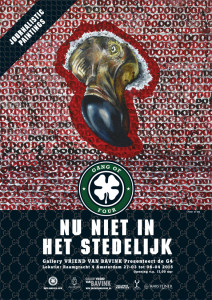 The making of a Religious art work is something of the past,so I heard.
We no longer are inspired by the activity of the All Mighty, maybe caused by the complete lack of miracals. No more parting of the sea. Not even the parting of a small lake, nothing of the sort, and no sign in sight whatsoever… One of the G Four had a close to death experience two years back, but apparently that no longer count as a miracle.
The PR machine for God came to a complete stand still, not even a hint that he is there. So why border spending time and energy on the creation of a art work, celebrating our dear Lord, to quote a famous George…
If I may give some advice to our Great Creator, make the G four part of the campaign team, and by doing so a make paradise more attractive to the new arrivals.
---